Hobart, IN
City of Hobart and Lake County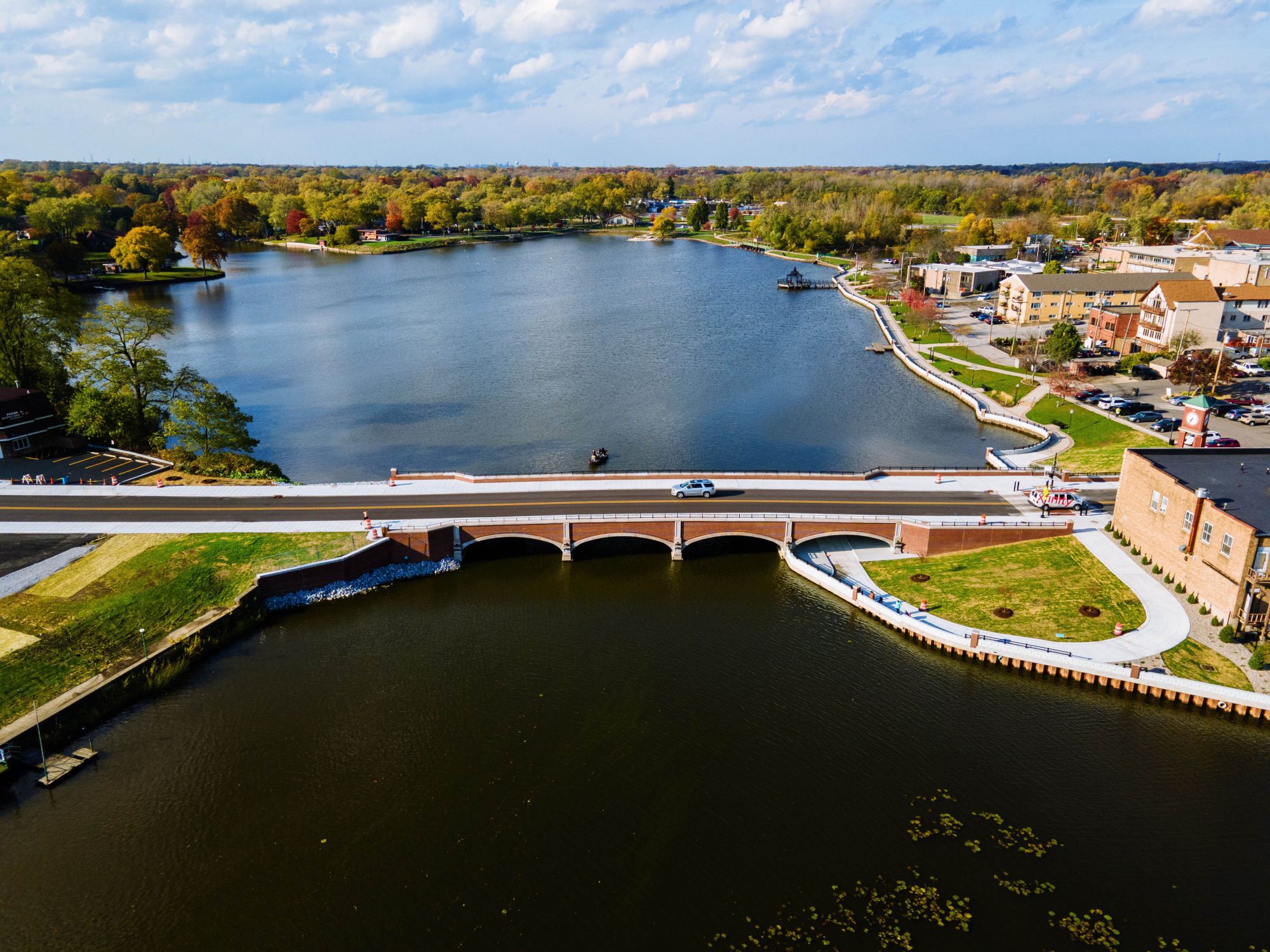 Summary:
The picturesque 3rd Street Bridge spans over Lake George where the historic downtown Hobart meets the popular Lake Front Park. Overtopped and washed out in 2008 during a flood event, the previous 3rd Street Bridge provided a span of 66 feet with only 40-inches of vertical clearance and was identified as a significant cause of area flooding. Subsequently the City started to organize a plan and funding and, in 2017, the City embarked on a total reconstruction with a visionary approach of the bridge and surrounding area. 
BF&S completed conceptual site layout, assisted the City with Right-of-Way acquisition and the administration of demolition of three buildings in order to make way for the project. Utility Coordination was provided, which involved moving overhead NIPSCO power from 3rd Street and onto the adjacent CN Rail corridor and the relocation and burial of Frontier's Nationwide fiber line and Comcast. BF&S then completed the project design, permitting, administration, and inspection that turned the 66-foot single span bridge into a 130-foot four span utilizing custom fabricated arches. 
Many residents enjoy how this project has paid tribute to the City's history as a major brick producer in the past through the full brick façade trimmed with Indiana Limestone. Additionally, the project was featured in a
Pre-Cast Solutions Magazine for the use of the precast barrels and wing walls that were implemented to reduce construction timeline, showcasing innovation in the use of precast materials! 
To read the Pre-Cast Solutions magazine article, click here! 
Awards
ACEC (American Council of Engineering Companies) Honor Award
Highlights
Brick, limestone, and ornamental features creating a centerpiece in Historic Downtown
Improved pedestrian and boater access
Reduced frequency and duration of flooding